The most beautiful churchyard on earth……
13 Mar 2017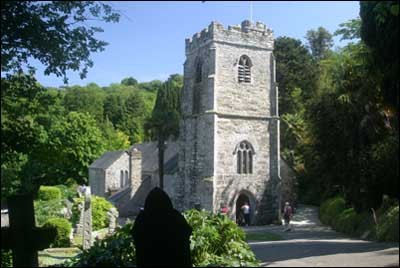 Just a short drive away from St Mawes is St Just-in-Roseland – you'll also pass through it on your way to and from the King Harry Ferry. This is famous for its 13th century church, founded in 550 AD in honour of St Just the Martyr. Such a dedication is unusual as there is only one other English church dedicated to this little known saint. The churchyard lies in a unique waterside semi-tropical garden setting: Sir John Betjeman described it as being "to many people the most beautiful churchyard on earth." If you stand at the lych gate to the entrance of the churchyard, the slope of the land means you find yourself at a level with the top of the church tower, while the rest of the church stretches out far below you.
An ancient legend says that the church stands at the spot where Joseph of Arimathea came ashore with Jesus (think of William Blake's line, '... And was the holy Lamb of God On England's pleasant pastures seen?'). A stone by the creek is said to be the one on which Christ stepped when leaving his boat, and the stone is inscribed with indecipherable carvings.
In common with other plant hunters of the time, a 19th century vicar planted exotic plants brought back from his foreign travels. Paths lead through rhododendrons, camellias, azaleas, bamboos, wild garlic and bluebells. There are also ponds with giant gunnera and small streams. The path from the road to the church is lined with granite blocks carved with quotations and Biblical verses.
Much of the current church building dates from the 14th and 15th centuries. Within the chancel there is a 13th century double piscina*, an octagonal 15th century font and a lectern which sports a winged lion carving from a medieval misericord. The tower contains three bells, the oldest of which was hung in 1684. Outside, the remains of a medieval holy well stand adjacent to the church in a shaded tree lined area of the creek.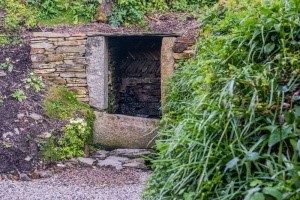 St Just's holy well
The church perches on the edge of the Fal Estuary, with numerous paths leading from the churchyard onto the coastal path which continues around the headland, through some magnificent National Trust lands to St Mawes. This is a delightful walk of approximately 2 miles.
*a stone basin near the altar in Catholic and pre-Reformation churches for draining water used in the Mass