Cornish Fairings
05 Dec 2016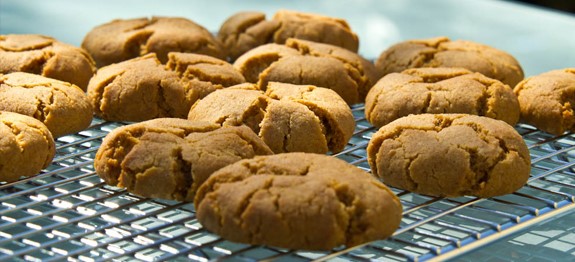 Cornish Fairings are sweet and spicy ginger biscuits. Fairings is the traditional name for edible souvenirs sold at fairs throughout England. These ginger fairings became associated with Cornish fairs in Victorian times and are still popular in the region.
Ingredients:
115g butter
1 tbsp golden syrup
170g self-raising flour
85g caster sugar
1 tsp ground ginger, or more, depending on taste
½ tsp bicarbonate of soda
Method:
Preheat the oven to 190°C/gas mark 5 and line two baking trays with non-stick greaseproof paper.
Melt the butter and syrup in a saucepan over a low heat until dissolved. Add the flour, sugar, ginger and bicarbonate of soda and give it a good mix with a wooden spoon. Leave the mixture to cool for a few minutes.
Using your hands, form handfuls of the warm mixture into balls about 4cm across; this quantity should make about 15 biscuits.
Place the balls on the lined trays, making sure that there's about a 5cm gap between each, as they spread in the oven.
Bake in the oven for 12-15 minutes until the dough has spread into cracked looking biscuits. If you like your biscuits with a bit of 'chew' (more cookie-like) then take them out when only the sides are brown. Leave them on the baking tray for a few minutes then transfer to a wire rack to cool completely.